August 20th, 2006 - Yea, I know... Technically, I'm posting this on the 21st... Who really cares? It's still about the Toronto Comic Book Fan Super Show, and I know some people are interested in what I have to say, or mainly, what I got from the convention.

Got to the hotel quite early, prior to a line even starting up. Decided to sit away from the front, just to kick back. Approaching opening, realized there was a line-up forming. Wasn't that big of a deal.

Though, for the folks at Paradise Conventions, the dual lines becomes confusing for those that just reached the convention level. Paid, but then lined-up in a second line to enter, which was directly infront of the bottom of the escalator. Some people ended up just walking into that line. Not sure if they had to pay or not, but it wasn't that many people that walked right into the line-up to get in. I might sound a little confusing, so if you don't get what I meant, just email me, and I'll try to explain it better.

Onwards to the convention report!

Upon walking in, I noticed that the Artist Alley setup was different from the floorplan. No worries, glad the tables had signs on them.

Went right into the Phil Jimenez line. Not sure how far back I was, but it wasn't that long. Phil Jimenez was not able to make the Paradise Comics Toronto Comicon back in April, so I was glad he was able to make this show (Who am I kidding? I was friggin happy he was announced).

Decided to crack open my new sketchbook, and had Phil sketch Zatanna as the first sketch in the new book.




Yea, I went ahead and got a Zatanna sketch. So I'm up to five now.

Went to see Stuart Immonen after Phil Jimenez. Stuart Immonen did tell me to tell my brother that "he sucks."

Oh, I guess you want a reason as to why he would say such a thing? Well, that's because my brother didn't colour the Crayon Butchery Variant of Nextwave: Agents of H.A.T.E. #5 (bro gave it to me to get signed).

Thought I'd bring that up, just to rib at my bro (Thanks for driving... and paying for parking... and buying lunch). Funny how that worked out. He did those three, while I spent $1.44 on his cup of coffee. And I owe HIM money (I know, I'll get you your money).

Anyways, I've seemed to have gone off topic. After Stuart Immonen, I went to see Adrian Alphona. He recognized me, and remembers my name. Cool!

Got the rest of my Runaways issues signed, and got a Wolverine sketch from him.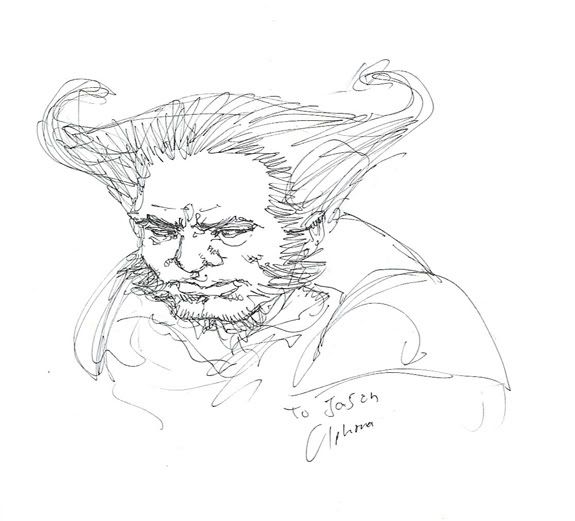 Decided to check out Cameron Stewart after, to see what's in store for him (and to get a sketch). Be sure to check out his new series (with writer, Jason Aaron), The Other Side (published by Vertigo). This series will start in October 2006, and is a five-issue limited series. Deals with the Vietnam War. Also, Cameron and (writer) Ray Fawkes will be doing some more work with their creation, THE APOCALIPSTIX, published by Oni Press, sometime next year (I believe).

Got myself a Batgirl sketch from Cameron.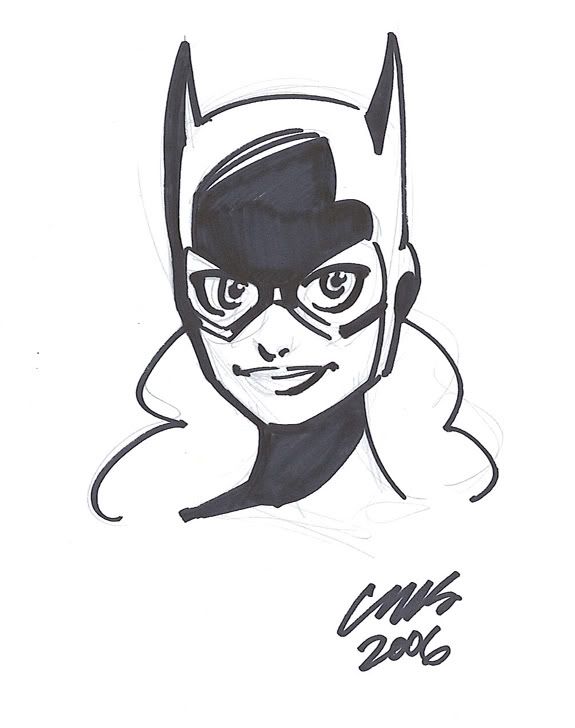 Went to check out an amazing talent that I passed up on back in April (due to time and money). Went to see Agnes Garbowska. If you want to check out some of her work, please take a look at her deviantART page. Got a commission of Spider-Woman from her that I absolutely adore (fav. sketch of the con).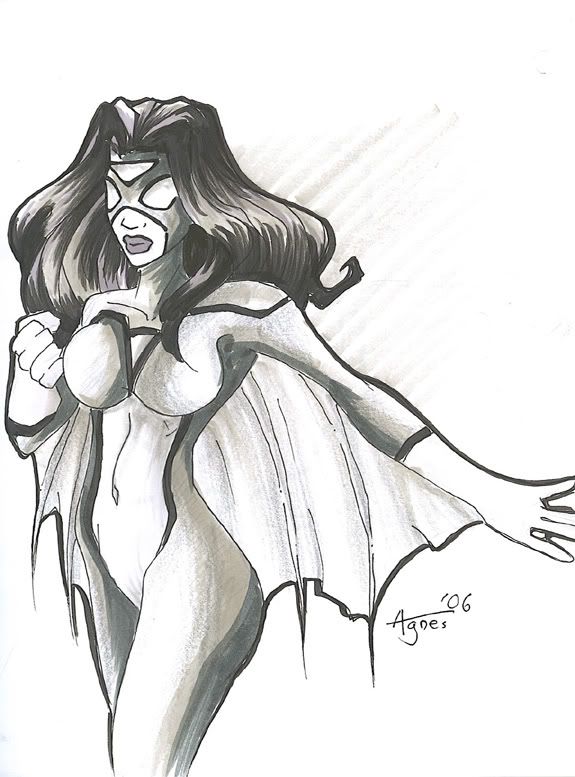 Picked up some Teen Titans GO! comics for my little siblings. Bought them off of J. Torres, writer of the comics. For those that do not know J. Torres, he won the Joe Shuster Award this year for Outstanding Canadian Comic Book Writer (see pic here).

Went to see Sean "CHEEKS" Galloway, and got a Raven sketch from him (Teen Titans GO! version of Raven).




Be sure to check out his issue of Teen Titans GO!, which it issue #37 (out in November). He's also the lead character designer of Hellboy Animated. And be sure to check out his deviantART page.

His wife, Alina "Ayanimeya" Galloway, was also in attendance. Check out her deviantART page. Got a quick (but really nice) sketch from her of Starfire (Teen Titans GO! design).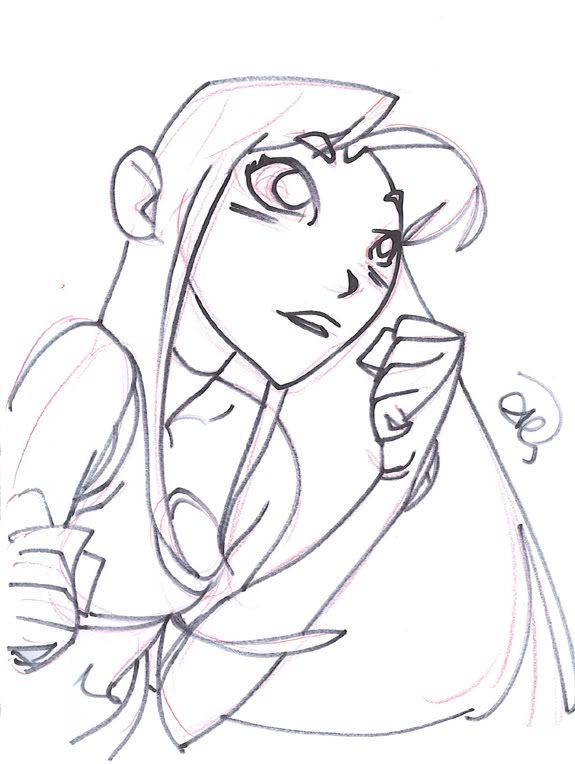 After I got the Starfire sketch, I roamed around the convention floor for a little while. Check out some original artwork of Francis Manapul. Lots of Witchblade, Tomb Raider, and Necromancer pages, priced cheaper than on his art dealer's website, ComicArtLinks.com. Went through the pile, but didn't pick anything up (wasn't anywhere close to leaving yet, and was too lazy to make a trip to the car to drop off the piece(s), if I decided on buying any.

Roamed the convention floor some more, but there wasn't anything to my liking, mainly because I didn't really have anything in mind I wanted to pick up.

Near the end of the day, I went back to Francis Manapul's table, and I purchased a page from "The Necromancer #5." First page of that issue to be exact.

Also, Francis also sketch one kick-ass Green Arrow for me.




Oh, and the page that I mentioned...




To sum it all up, there was a lot more people than I thought there would be, causing some aisles to crowd up (mainly the corner where Phil Jimenez and Ken Lashley were seated). Great guests, though I feel bad for Kent Burles and Rich Dannys, because the Phil Jimenez line blocked any potential on-lookers. Though, the Phil Jimenez line did allow people to check out their work while waiting, I'm just not sure how well those two did.

Had to pass up on Ken Lashley, because of the line. It was pretty empty when I got to the front of Phil Jimenez's line, but quickly filled up while Phil was working on my sketch. Just didn't feel like waiting then (especially after waiting at the Heroes World signing six weeks ago). No worries. Bound to see Ken another time.

Picked up the copy of "The Flash: The Fastest Man Alive #1" that I had CGC Signature Series (back in June, signed by Ken Lashley). Came back a 9.6. Not bad, but I was hoping for a higher grade. Oh well. First comic I've gotten CGC-ed.

Thanks to Kevin Boyd and Peter Dixon, and everyone else involved with the Toronto Comic Book Fan Super Show. I know I had a blast. I hope everyone else did too.

Peace. I'm going to sleep.