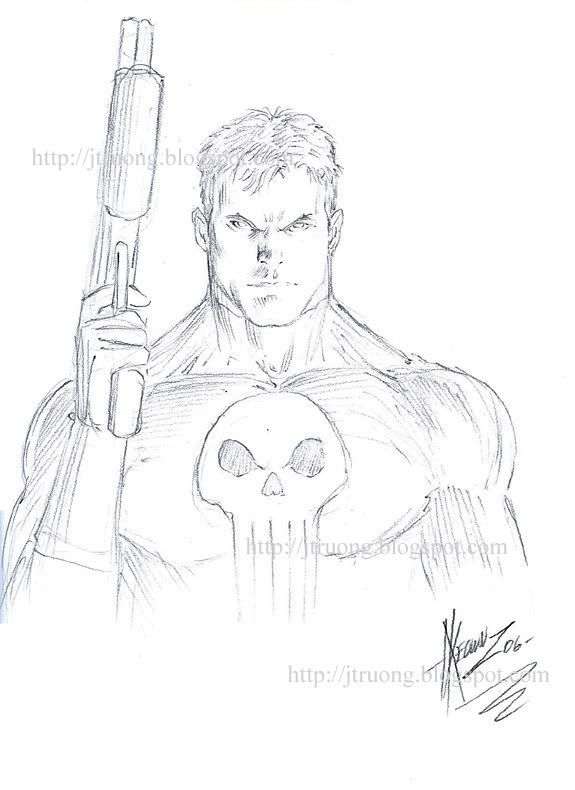 Today (November 19th, 2006), I went to the Toronto Comic Book Fan Super Show. My original plan was to go mainly for the books, because I thought I had to be at my little sister's dance recitol in the morning (instead, I'm most likely attending the one next month), which would've made me arrive in the afternoon. Since I didn't go to the dance recitol, I arrived early. Well, not as early as I normally do, but before opening.

I decided that I would wait in a line. The line was for Dale Keown (Darkness/Pitt). I decided on a sketch of The Punisher from Dale Keown (shown on the right, click for a bigger picture). This is after Civil War #5, where Steve McNiven draw The Punisher holding a bloodied Spider-Man, which was somewhat similar to (and acknowledged to) a Dale Keown drawing of The Punisher.

I'm quite happy with my first Punisher sketch, though the skull is small on the shirt. Still a very nice sketch, that I'm happy to get.

After that line, I decided to just check for books. Got about 13 back issues. Some nice issues too (listed below).

- Thor #337 (first appearance of Beta Ray Bill)
- Uncanny X-Men #268 (I have this signed by Jim Lee and Chris Claremont, but I like this issue).
- Power Man #48 (first meeting of Iron Fist and Luke Cage)
- Crisis of Infinite Earth #8 (death of Barry Allen)

Picked up those for $3/each.

Took off from the convention around 3pm. Needed some food in me, and with my sister's bday party from the night before, I had to get home to help clean up. Left over food from the party!