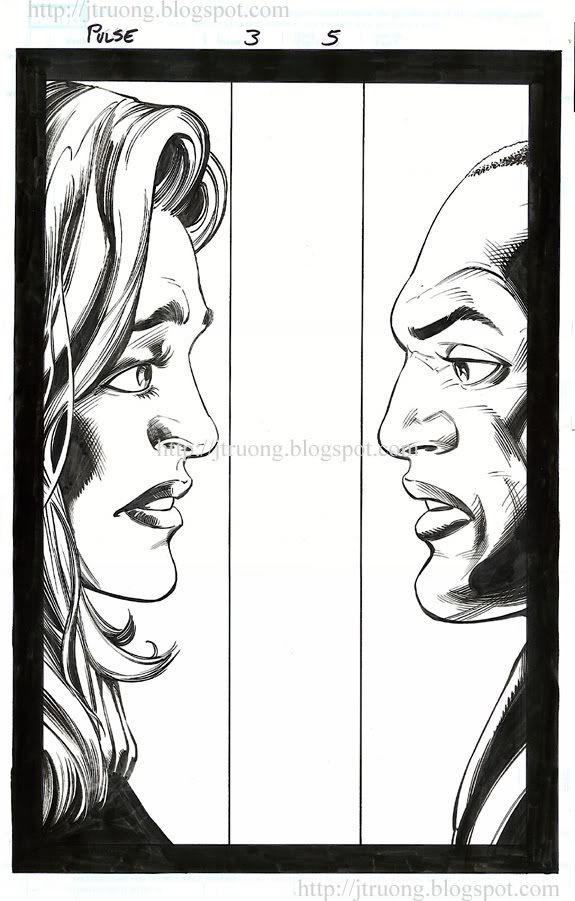 After my stupid ordeal with Purolator, I finally got my page in from The Artist's Choice. It's from The Pulse #3, Page 5. Pencils by Mark Bagley. Inks by Scott Hanna. The issue was written by Brian Michael Bendis.

The stupid ordeal wasn't much of a headache or anything. They tried to deliver the package on Monday, but I didn't answer the door. I didn't hear the doorbell, and with the time they listed on the notice, I am sure I was in the kitchen, eating my lunch. So, I should've heard it.

Anyways, I get the notice, saying to pick it up from the Purolator service station the next day. Okay, not a big deal. It's about a city block away, so I make the trip this morning (Tuesday). I get there, give the notice to the girl at the counter. She comes back telling me it's out for delivery. What?!?!? She's confused as to why the notice was left for me to pick it up, and they sent it out for delivery again. She apologized, even though I'm not upset at her or blaming her or anything. I, too, am confused though.

So I spent the morning waiting for Purolator to arrive. When they finally do, it's not from a big white Purolator truck. It's from some lady's Honda Accord. Even more confused here. I know it's not the mail carrier, cause I've seen the mail carrier, and know both of the cars she uses.

Anyways, it's over with, and I have the Mark Bagley splash page that I've been eyeing for a couple of years now. And to top that off, this page came signed by Mark Bagley and Scott Hanna! SCORE!

---
Just got these two books in yesterday, and I read them both. Both of the books are fantastic!
I would get into more detail here, but I gotta get ready for work.