I'm happy to report that in the current issue of Wizard Magazine (issue #191), I have two photos published, from Paradise Toronto Comicon 2007.

On page 12, you can see the photo of Tom Grummett and Stuart Immonen.



On page 14, you can see the photo of Nicola Scott with some kids at the Comics For Kids Bullpen.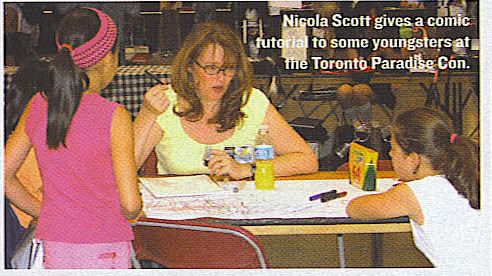 I'm quite happy to see not only one photo that made the cut, but TWO, to make it in the issue! I'm even more happy to see my name in there, twice!

I remember, as a kid, I tried to get in with the Wizard Fan Mail thing, where people drew and coloured envelopes, and sent it in. I can't really remember what I drew, and whether or not I sent it in, but I'm sure it looked like crap, and wouldn't have made it to the magazine back then.

Umm, I guess the scans of the Wizard Magazine are copyrights of Wizard Entertainment.