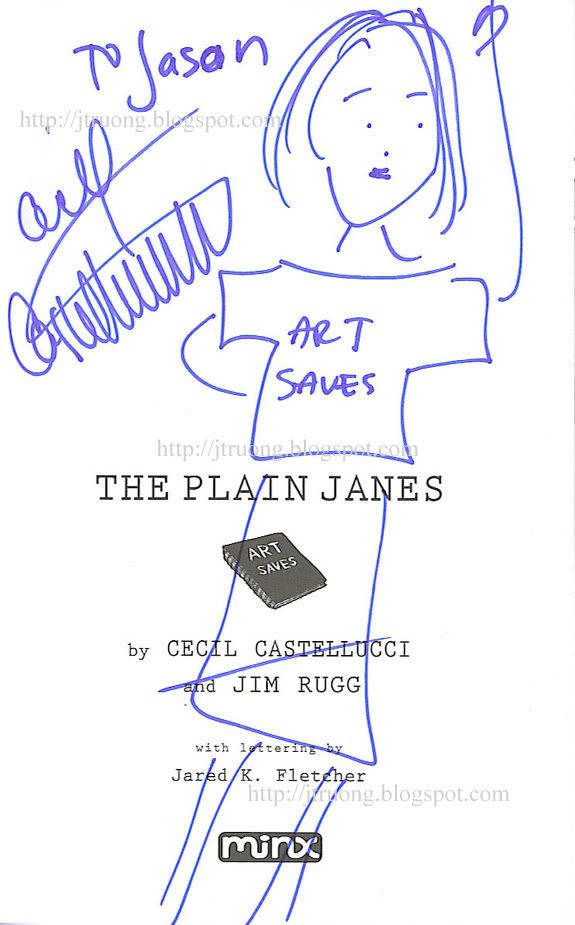 I started my new comic day, at my usual shop, Cyber City Comix. Kind of a big week for me. I ended up passing on a few books, that I wanted to get.

Also, with the Cecil Castellucci and Scott Hepburn at The Beguiling, and the Marvel Hardcover Sale, I was gonna spend more money there.

Picked up at Cyber City Comix:
Captain America #34 - The Alex Ross designed Captain America makes its debut. Also, the new Captain America is revealed. I highly doubt this will be a hard sought issue, like Captain America #25.

Green Lantern #27 - So we find out who and what are the Alpha Lanterns. I almost put this back, while at the store, but ended up keeping it in the pile. It was a good read.

Mercenaries #3 - I enjoyed it. Nothing really to write here. Just another story.

New Avengers Annual #2 - Damn, Bendis. Just won't leave Tigra alone? The conclusion to the New Avengers vs. The Hood (w/ cronies).

Project Superpowers #0 - To be honest, I found The Twelve to be much better than Project Superpowers. I kinda got bored, and drifted away while reading this.

The Spirit #13 - I caved. It had a cover by Darwyn Cooke and J. Bone. Writers, Glen David Gold, Dennis O'Neil, Gail Simone. Artists, Eduardo Risso, Ty Templeton, Phil Hester/Ande Parks. I was sold.

Y: The Last Man #60 - The finale to this series. It jumped 60 years. I don't really like that. I was kinda hoping it'd continue right from the last issue.

Picked up at The Beguiling:
The Plain Janes - Great start to DC Minx line. Highly enjoyable book, that others should check out. Be on the look out for vol. 2, out later this year.

Star Wars: Knights Of The Old Republic #25 - I don't really follow the Star Wars comics, but I picked this up in support of local artist, Scott Hepburn. It's the start of the "Vector" arc, which is twelve issues. I'm sure, there's something that leads to this, which is why I'm quite lost.

Amulet - The new graphic novel series by Kazu Kibuishi, published by Scholastic Graphix. I haven't read this yet, but I want to before the signing next week at The Beguiling (also appearing, Kean Soo). Also, if you're able to attend, be sure to check out Keep Toronto Reading: Graphically Speaking 2008.

Shanna: The She-Devil HC - Picked up the hardcover for Frank Cho's Shanna: The She-Devil mini-series. Part of the Marvel Hardcover Sale, for $10.

Spider-Man/Black Cat: The Evil That Men Do HC - Picked up the Kevin Smith/Terry & Rachel Dodson mini-series. Part of the Marvel Hardcover Sale, for $10.

I wanted to pick up the first three X-Factor hardcovers, but it was already an expensive day, so I passed.