On Sunday, my bro and I took the trip down to The Word on the Street.


Lighting totally didn't help capture this picture
We got down there just before 12pm, and walked around for a bit, before catching the Street Fighter Tribute panel. We looked around at a few booths, but most were crowded, and not too many interested us (or at the very least, me). We did check out the main booths we wanted to check out (The Beguiling, The Labyrinth, Drawn and Quarterly, BMV).
Picked up the
Street Fighter Tribute
at The Beguiling booth, because I wanted to see all the artwork (and find all the pages, prior to the Launch Party).
We got to the Comics & Graphic Novel Tent near the end of the
You Crack Me Up! Creating Comic Strips With Chick and Dee
panel, with Steve Manale and Brian McLachlan.
Steve drawing, while Brian working the mic
One thing that remained constant throughout the day, was that the panels that took place at the Comics & Graphic Novel Tent, was packed. Seats filled, and people were standing behind the seats, watching the panels.
Luckily, we got seats for the Street Fighter Tribute panel.
First off, the Street Fighter Tribute book is beautiful! Lots of great pieces that made the cut. I'm sure there were several hundred more that unfortunately could not make the cut for the collection.
Jim Zubkavich & Matt Moylan discusses the Street Fighter Tribute
Nice to hear how this book came about, and hearing about the submissions.
After the panel, LUNCH!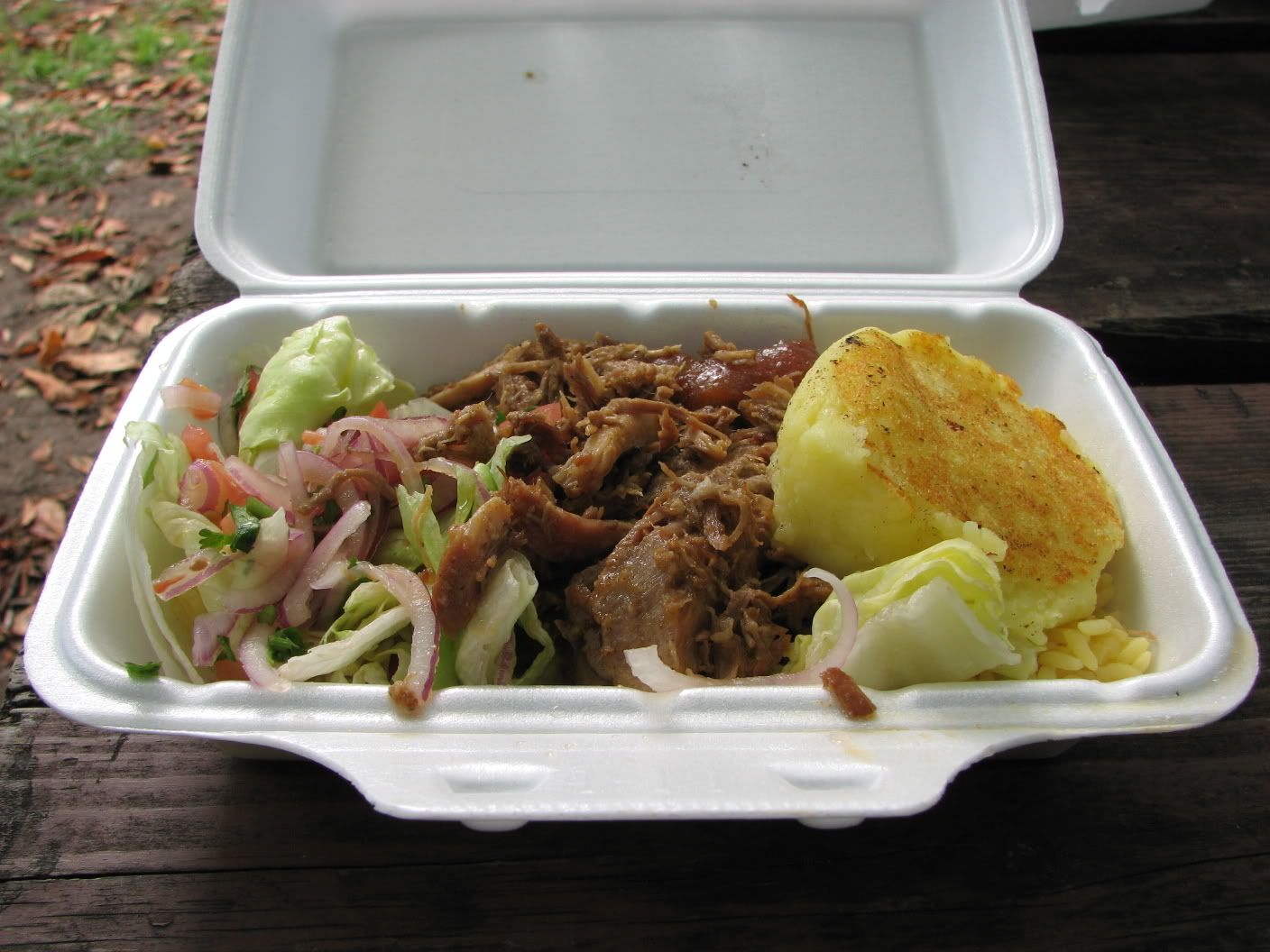 La Fiesta's Complete Meal (Rice, Potatoes, Salad, Shredded Pork)
The rest of the day at WOTS was just walking around, and looking for stuff to potentially buy. I did pick up a copy of Spider-Woman: Origin HC and the Alex Ross postcard set for $5 each. Not too shabby. Both were purchases from the BMV booth.
On the walk back over to The Beguiling booth, we noticed a crowd infront of the CBC booth, and saw cast members of the
Little Mosque on the Prairie
signing stuff for those that were there.
Stephen Lobo, Sitara Hewitt, Zaib Shaikh, Carlo Rota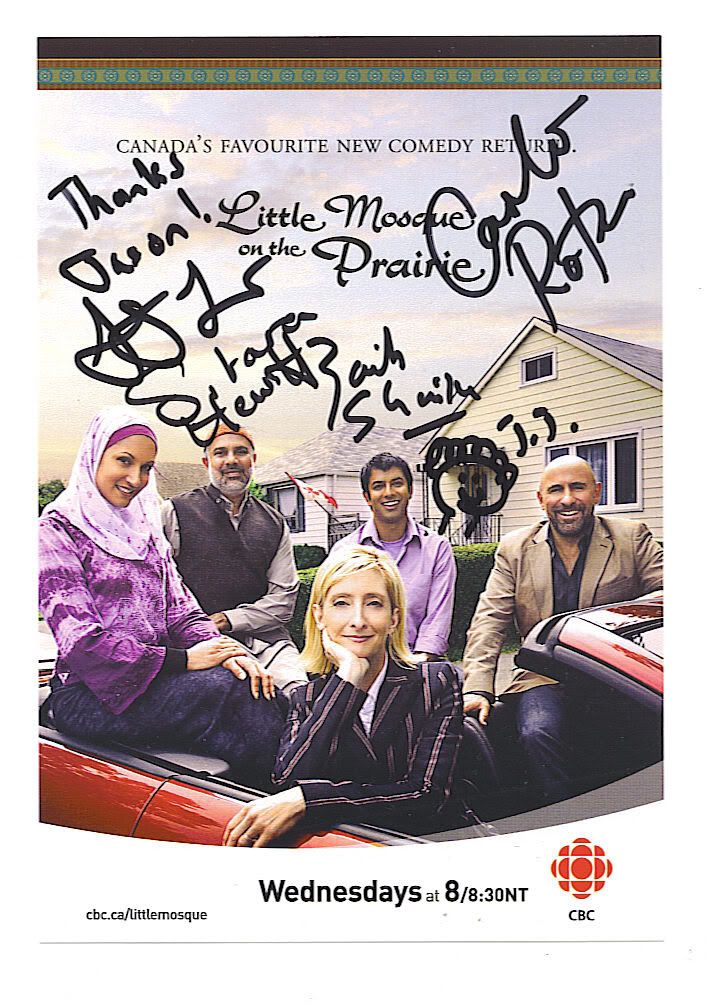 Features a "self-portrait" sketch of Stephen Lobo. :D
Me with the cast
Oh, and to top that off, guess who dropped by the CBC booth as well.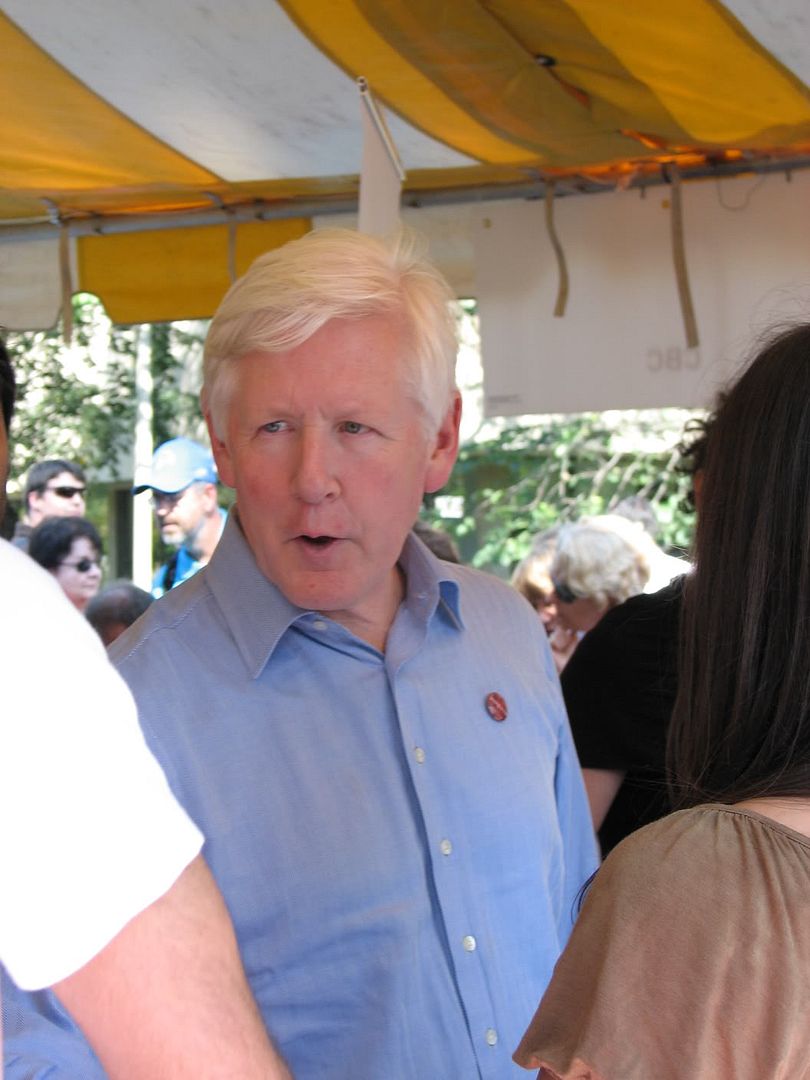 BOB RAE!
Headed back to the Comics & Graphic Novel Tent to see the rest of Ramon Perez and Jim Munroe's panel.
Ramon ready to draw, while Jim is working the mic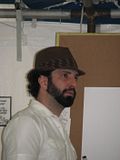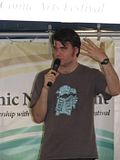 For the most part, I was done at WOTS, and was just waiting until the Street Fighter Launch Party. After that panel, I found a bench around the U of T campus, and sat there for almost an hour, flipping through the Street Fighter Tribute.
I left the WOTS around 4:15pm, to proceed over to The Beguiling, so I could look around the store, prior to the Street Fighter Tribute Launch Party. Not being too familiar with the city of Toronto, it turns out that The Beguiling was really close, and just a short subway trip away. Heck, it's not that far of a walk either, I just never realized it, until I arrived less than 10 minutes later, at The Beguiling (this time includes the walk from that bench, to the hot dog vendor, to the subway, and to The Beguiling.
Didn't spend too long inside, but picked up a few items. The main one being XOXO Hugs and Kisses 30 Postcard by James Jean. Great little collection.
With so much time left, before the Launch party started, I decided to grab some dinner, before heading back, and chilled inside of Rocco's Plum Tomato. Turns out there were some people already there. Soon, I found out that most of those people were contributing artists in the Street Fighter Tribute... and me...
So while everyone started to get their copies signed by each other, I jumped in, and got my copy signed. I figured this would be easier, since it wasn't crowded, and I didn't know who everyone was.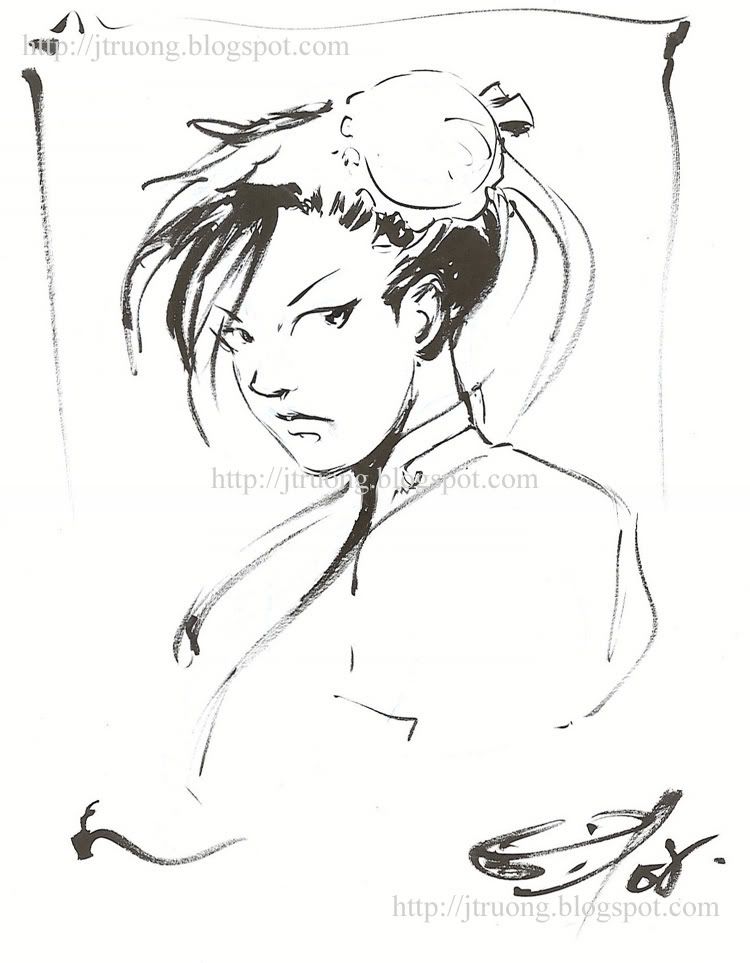 The signing got started a little bit early, as people started to arrive. The turn out, from what I hear and saw, was a lot better than expected. Many of the artists that had a contributing piece, and that was near the city of Toronto, ended up coming to the signing to join along with the signing.
Knowing me, in addition to getting this collection signed, I was hoping to get a bunch of sketches. Didn't get as many as I was hoping for (you guys know me well enough to know I always want more), but I am very happy with the ones that I received, cause they turned out great.
The Street Fighter Tournament seemed to go off without a hitch. Lots of participants. I didn't actually enter the tournament, cause with my skills, I would've received a whoopin' in the first round.
But it was nice to see everyone playing, and having a good time. Eating, drinking, mingling, video-gaming, was all well and good.
Chip, I'm sorry for this pic, but you ROCK!!!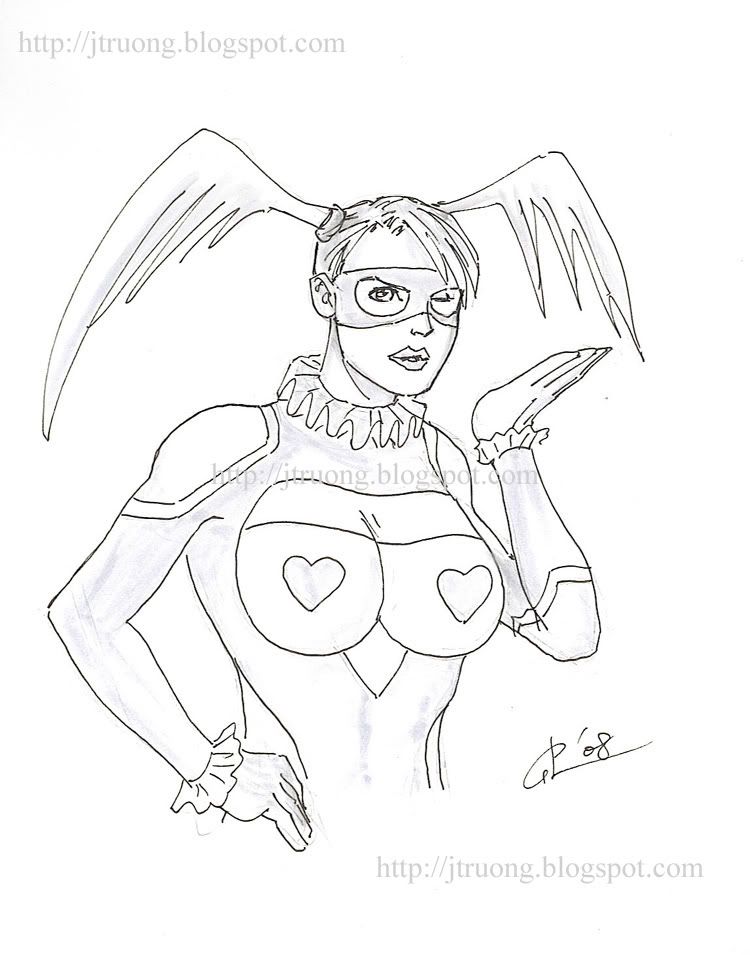 One of the "you had to be there" moments that occurred, having a chat with Cameron Stewart, Ty Buttars, and Leo Lingas, one of the guys from Rocco's Plum Tomato brought out a tray of pepperoni pizza slices. As soon as the plate goes down, hands from all over the place came out and grabbed a slice (one of those hands was mine, reaching through people). The tray was gone within ten seconds (factoring out the time it took to removed the gooey cheese from the tray, cause that was some cheesey pizza). Few minutes later, more trays were brought out, including another pepperoni. That tray went oddly untouched (for awhile).
Not too long after the bulk of the party was moved from Rocco's Plum Tomato, over to The Central, was when I took off. Most seemed to have left, aside from several that stayed to play some Street Fighter. As I stated, I'm very happy with the sketches I received. If you didn't already click the pictures, or hover the mouse pointer over the pics, here are the sketches in the order above (and below).
- Chun-Li by Eric Kim (above)
- Crimson Viper by Eric Vedder (above)
- Lil' Ryu by Matt Moylan (above)
- Rainbow Mika by Alex Chung (above)
- Crimson Viper by Alvin Lee (right)
- Ibuki by Alex Diochon (below)
This one was actually one of the three left on the table by
Alex Diochon
, when he took off. Just about to head out, when I noticed them. Asked around to those that were sitting next to Alex, and was told that he took off.
Hopefully, I didn't steal this, and was left to promote the artist, because the pieces were left with a stack of business cards. So, please check out
Alex Diochon's
work.
Of the three pieces, I took the Ibuki piece (was hoping to get an Ibuki sketch, so I'm happy with this one). The other two were: M. Bison (which was also claimed when I grabbed one), and a piece with Ken and Ryu (left for anyone else). All of which were great.
Now, here is a list of those that signed my copy of the Street Fighter Tribute. If you were at the party, and I didn't get you to sign this, I'm sorry. I wanted to get as many people as possible.
-
Erik Ko
(Page 4 - Foreward)
-
Omar Dogan
(Page 13)
-
Alvin Lee
(Page 60)
-
Leo Lingas
(Page 115)
-
Eric Vedder
(Page 117)
-
Charlene Chua
(Page 120)
-
Jim Zubkavich
(Page 131)
- Robbie Armstrong (Page 133)
-
Alexander Diochon
(Page 136)
-
Louis Champagne
(Page 148)
- Mike Nguyen (Page 149)
- Keith Morris (Page 152)
-
Joe Vriens
(Page 173)
-
Scott Hepburn
(Page 183)
-
Cameron Stewart
(Page 191)
-
Saejin Oh
(Page 205)
-
Vince Chui
(Page 233)
-
Ted Kim
(Page 243)
-
Eric Kim
(Page 257)
-
Matt Moylan
(Page 265)
- Alex Chung (Page 275)
-
Mark Sinclair
(Page 295)
-
Joe Ng
(Page 311)
Another beast of a book to bring to cons to get signed. Sadly, I know I won't complete this book, because a lot of the artists are from different countries (Brazil, Peru, Phillipines, China, South Korea, Australia, and various others), and I highly doubt I'd see them all.
Now I leave you with a little photo dump of the day.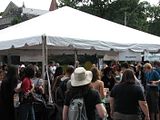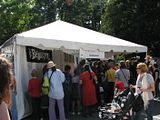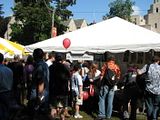 The Labyrinth, The Beguiling, Drawn and Quarterly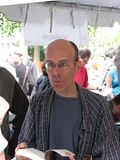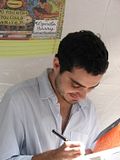 Spy Guy Warning Sign, Chester Brown, Matthew Forsythe
Street Fighter Tribute Launch Party Pics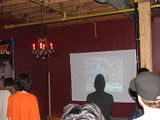 Street Fighter Tribute Tournament Finals, and Winner