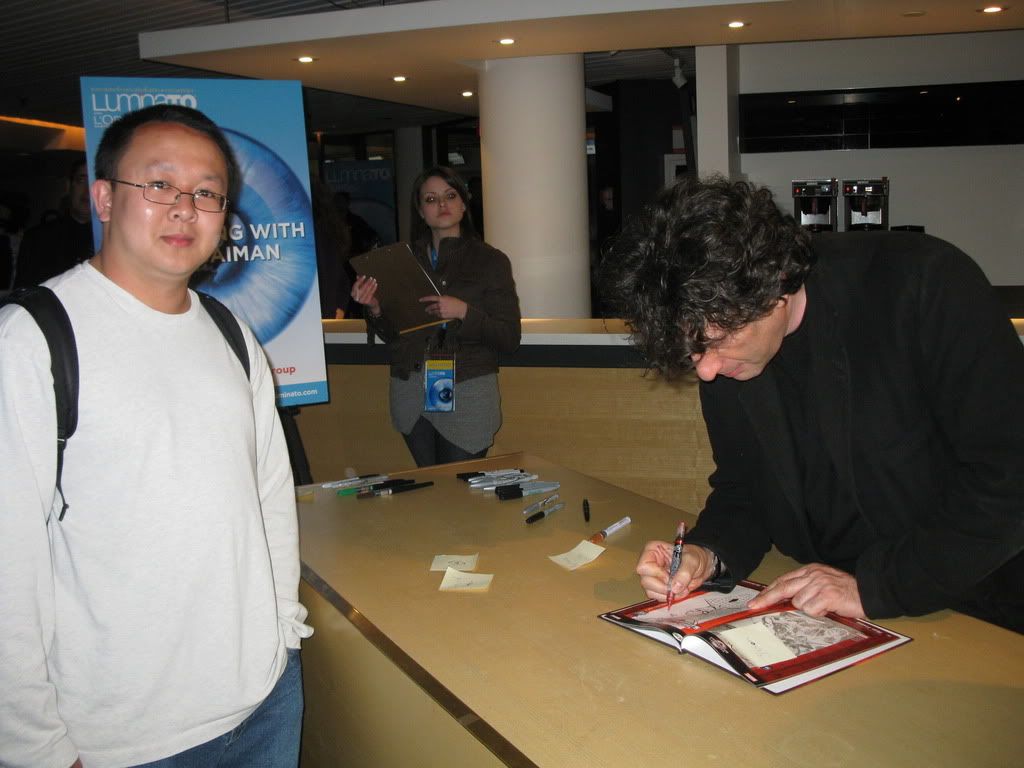 Along with Danny, I attended An Evening with Neil Gaiman, which is part of the Luminato: Toronto Festival of Arts programming.

I stumbled across this on Neil Gaiman's website, and just knew I had to be there. I've missed the last Neil Gaiman reading, three years ago, and several of his previous visits to Toronto, which were unadvertised (usually for movie screenings). This one, I found out when tickets were being sold, and ordered one of myself and Danny... using his credit card. :)

As Danny explains most of what happened, I'll just skip that part, and talk a little about the signing.

Figuring that there was going to be a signing limit, I knew my main item to get signed. I did have extras, if there was a chance at more, but it wasn't something that I was going to push.


The Hero Initiative's The Ultimate Spider-Man 100 Project signed by Neil Gaiman
I've received a lot of crap from Danny, as to why I chose and stuck with this item, to even turn down some money offered, for him to get his second item signed. I'm sure many are also wondering why this was my top choice.
Frankly, this is a more personal choice. I didn't have anything of monetary value that I could get signed by Neil Gaiman, and even if I did, there were only a few books that I would've put ahead of this book. I've been collecting signatures in it, since I got this back in August 2007 (Thanks to Kevin Boyd). Since then, I've gotten signatures from John Romita, John Romita Jr., Dave Sim, Herb Trimpe, Frank Quitely, and several, several more.
After the signing, we just called it a night, and headed home.