Happy Cinco de Mayo, people!

Yeah, I'm not Mexican... does that make me a "Mexican't"? Oh, Robert Rodriguez, that was a stupid line from "Once Upon a Time in Mexico."

That allows me to segue into why I didn't post this earlier. I was cooking (yes, I can cook, and bake). I spent the afternoon, cooking dinner for the family. We had pulled pork tacos, and pulled pork sandwiches. And how does this segue from "Once Upon a Time in Mexico"? The bulk of the marinade for the pulled pork.

See, while at the wedding on Saturday, my good friend Mike was talking about the pulled pork tacos he and his wife had while in Mexico. Then his wife, Cypril, suggested I make the tacos they had (with no pictures, or really any knowledge of how to do it), after posting pictures of my dinner on Sunday.

What the heck? It sounds delicious, so I took a stab at it.

Now, after searching for some recipes on what I need for this, I also wanted to check out a video I saw that's in the "Once Upon a Time in Mexico" DVD. It's a cooking lesson, by Robert Rodriguez (director of Desperado, Sin City, Spy Kids 1-3, Once Upon a Time in Mexico).


Now, this isn't really the same thing as what I was planning on making. But really, it's pulled pork, and I'm deciding what to put that pork on. I followed some of the instructions with the ingredients, but I had to scrap some of the spices, and the peppers, because of my little siblings. The pork could have used that kick. Maybe next time.
Once the pork was in the over, it was time to read some comics.
Brightest Day #1
- It was off to an okay start, but I'm not continuing with this bi-weekly series.
I, Zombie #1
- I caught the preview of this in American Vampire #2, and I really enjoyed the preview. I was a little bored with the middle of this issue, but did enjoy the beginning and ending. Looking forward to checking out the next issue. Oh, and I got both covers!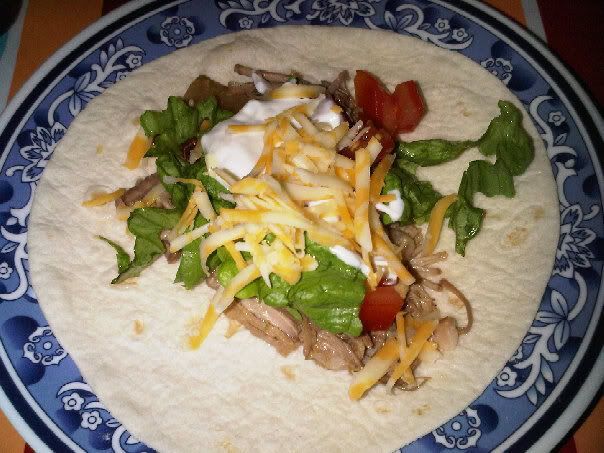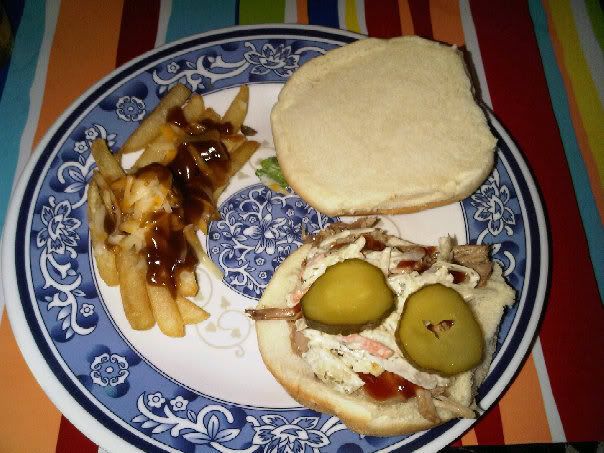 Pulled Pork Taco (L), Pulled Pork Sandwich w/poutine (R)