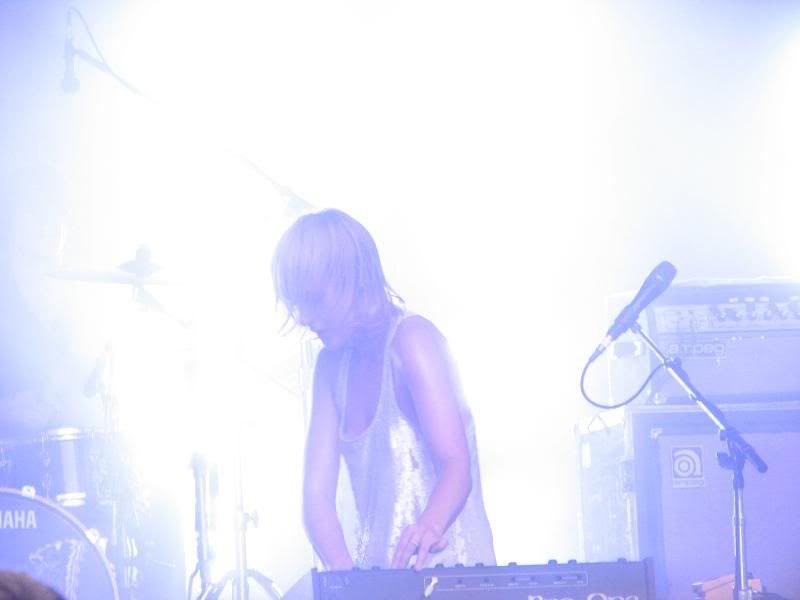 Emily Haines (Lead Singer of Metric)
I don't know why, but I like that shot.
So late Tuesday evening, I was checking out my Facebook (one of the several hundred times I check it throughout the day), and I came across an interesting post.
"
Metric
This Week! Free METRIC Shows in Toronto + New York City
http://bit.ly/bxkb9S
"
That posting caught my eye, and when I saw it was a concert for the following day, I went to tell Danny about it. However, it seemed like he was sleeping, so I just shot him an email with the link. He confirmed he was going, like 40 minutes later (open your friggin door, when I knock...).
For me, since I wasn't working, it was a must go for me. I had the opportunity to see Metric live, at the Casby Awards last October. But Danny had already gone to see Metric perform at Massey Hall earlier that week, and none of my friends were available. I decided against it, at the time. I have been regretting that decision, ever since.
I arrived around 4:45pm, know that there would already be people waiting there. Yep, there were. Occupying the front row, at the gate. I stood back, thinking that I'd probably get clearer shots, from the side, near the pillars of Union Station. But once everyone got up, I decided to move closer.
See, there was a sectioned off area, but also empty. So everyone thought that they were going to open the gates, and let everyone move closer to the stage. Found out closer to the start time, it was reserved for Samsung employees (I think, since they seemed to sponsor the concert). At this point, I was stuck.
And once again, I leave you with a slideshow of the photos I took (last three pics, are the ones Danny took, he was further away than I was).
The free Metric concert ended at 8pm. Didn't expect them to play long, for a free show, and really didn't expect an encore (which did not happen). Went home right after.
Next events on my agenda:
- Green Day (with AFI) - August 18th, 2010
- Buffalo Bills vs. Indianapolis Colts - August 19th, 2010
- Fan Expo Canada - August 27th-29th, 2010
- Toronto International Film Festival (TIFF) - September 9th-19th, 2010
- WWE RAW in Toronto (House show, not live taping) - September 10th, 2010
- Hoping for one more event in September, but won't know about that until the beginning-ish of September.