This past week, I have been treated to a couple of sporting events in our great city. Although the Toronto Maple Leafs are officially eliminated from playoff contention, I'll always root for them. That being said, I didn't see them this week.

On Saturday, I went down to BMO Field, to catch my first Toronto FC game (vs Chivas USA). One of my best friends, Mike, got a pair of tickets, and offered one up to me. I'm not a soccer fan, at all, but what the heck... I've never been to a soccer game. I wanted to go see all the dives, live in person. I wanted to heckle anyone that fell on the ground, to which I did with one person. I don't even know anyone's name in the MLS, other than David Beckham.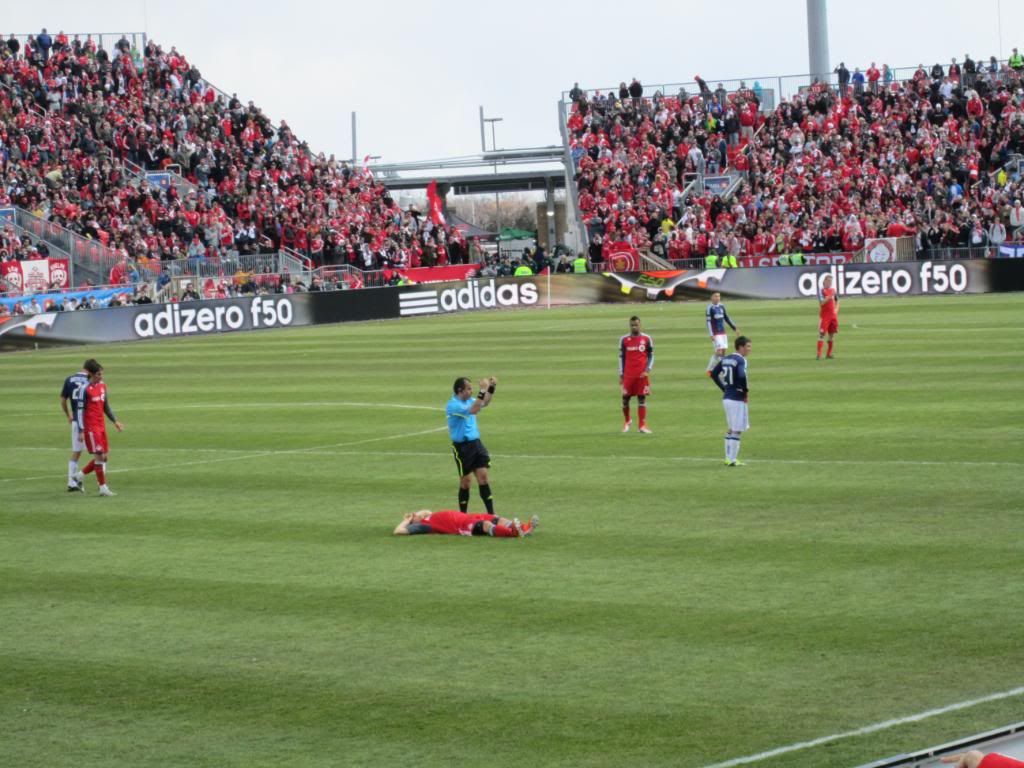 The day before the game, the Toronto FC traded away their captain, Dwayne De Rosario, who's name I learned at the game, forgot since, and just had to look up for this blog entry.
The blog entry just below this one, still remains the highlight of the game for me. A little soccer net with a dangling ball, in the urinals.
The game ended a 1-1 draw, and I was quite drunk that afternoon. Took a nap, when I got home.
On Wednesday, I went down to Jays game with Peter (of
All New Comics
), who offered me his extra ticket for the game. Jays won 5-3 over the A's. The 3-4 guys behind us, were douchebags, that kept on saying that they had to catch a foul ball... for the whole game! I was 23 numbers off from the 50/50 draw, which was the closest I've ever been ($1700+ prize).
Thanks to Mike and Peter, for the extra ticket to the games!