August 25th-28th, 2011 - The longest Fan Expo Canada has come to an end. Holy crap, that con was 35 hours long (show hours)! I am not gonna even try to think how many hours were put into it, by those that work it.

Let's get this outta the way, right off the bat. Clusterf*ck 2011, did not occur. I didn't expect it would.

Things ran a lot smoother. Though, there were a couple of hiccups (in my opinion), and a couple of things that just flat out bugged me. Ultimately, those didn't have any effect on me, other than a little bit of inconvenience (making me walk 80-300m, just to go 10-50m, respectively).

I am glad it was just that... the inconvenience. Had things gone differently, it could have been a disappointing show for me, but none of this "what if...?" stuff. It didn't happen, and the show was great for me.



---
Fan Expo Canada: Day 0 - Wednesday August 24th, 2011
Wednesday, I went down to the con, to help with the set up of the
All New Comics
booth. This just gets me in the mood, for the con. Gets me into the con atmosphere, and allows me to know the surroundings. It doesn't feel like work... until I start lifting boxes, and start to curse "why did I agree to do this?" Ha!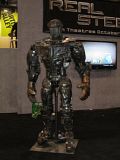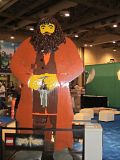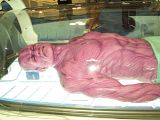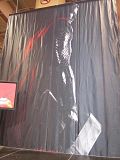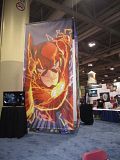 Then, the Tornado Watch for the GTA. Once the set up was done, I hauled ass home, to help put away items, in case there really was a tornado... there wasn't.
---
Fan Expo Canada: Day 1 - Thursday August 25th, 2011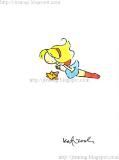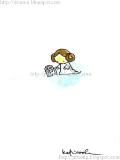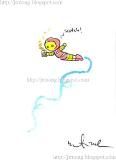 Thursday, was the first day of the con. We got to the con around 11:15am, and got into the Premium line, since we ordered the Premium passes. I believe we were within the first 200 people in line. Until security realized that non-Premium attendees were also in that line. Moved them over, and we moved to within the first 100 people.
Then it rained for a bit...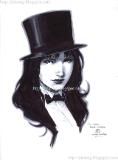 We were let inside the Metro Toronto Convention Centre South Building, sometime around 1:30pm, only to see that there was a line in the queue, on the 600 level of the MTCC South Building. Once they started to let the Premium line down to the 800 level, the line in queue, was also let in. Wondering where that line came from. We (me,
Danny
,
Migs
, Marv, and
Brendan
, got in line on the 800 level, to be like 200 people back. There was still some time, before the con let in, so I went to grab my Swag Bag. The line let into the con around 2:15pm.
I went straight for the artist, who's sketch list I wanted to get on... Jim Cheung. I was second in line, behind Migs. Brendan and Danny were after.
However, we weren't sure when he would arrive. So, while planted in the line at his table, we all took turns to head around to get other things done (books signed, getting on sketch lists, grabbing free crap, etc.).
After Jim Cheung arrived, and getting on his sketch list, I went around to get more books signed, and got onto
Sara Richard's
sketch list.
I've been taking a liking to her art style, from sketches I've seen in the past. When I saw she was on the list of attending guests, I decided to get onto her sketch list.
Around 5pm, I went into the parking garage, to drop off some books I got signed, into the car. I also grabbed some books, to bring back in.
Now, this was something that bothered me a lot, for the bulk of Thursday. I tried to re-enter, through the parking garage entrance. I didn't even make it halfway across the bridge on the 600 level, that looks onto the 700 level, to be told that I was going in the wrong entrance, and had to go up and out, to walk through the front entrance of the South building. The parking lot entrance was just for Guests, Exhibitors, Dealers, Staff.
I know things have changed, to avoid overcrowding, and to speed up the process of everything, but this really bothered me, because I was about 50 metres away from the elevator & escalator, just to get back down. But, no... I had to go outside, and through the front entrance. I was actually pretty pissed off, but since I was outside, I went to grab some dinner, at Subway sandwiches.
While eating there, this did give me some time to calm down somewhat, and gather my thoughts as to why that change was implemented. My guess, to prevent single day ticket buyers, from coming inside, when they are supposed to enter through the loading dock entrance, just south of the parking garage. That being my guess, has me thinking that Premium passes should be allowed to re-enter through that door. Being a Premium pass holder, means I didn't buy my ticket on the day of, as it sold out after 10 days. Frankly, spending that extra bit of cash for the Premium pass, should make things a little more convenient. Or, maybe allow re-entry from that area, after the first hour of the show, so people just don't go through there right off the bat.
That was one thing that bothered me during the con. There was one more thing bothered me, since this was especially inconvenient. The queue line on the 600 level, behind the escalators/stairs. After the initial entry on Thursday, where I saw people in that line, that I was curious as to how they were inside before me... I did not see that queue line used to hold anyone at any other time.
However, people that are coming in first thing in the morning, re-entering, or just coming in throughout the day, had to walk back and forth around 7-8 times in that queue line, just to get to the end of the first row. Absolutely pointless, when the bar at the end of the first row could be removed, just so people can go through quicker. If the queue line was actually being used to hold people in them, then put the bar back up. I just laughed at how pointless that queue line was, every time I used it. This rant is over.
Eventually, I made my way back into the con, and went to see
Junko Mizuno
. Saw someone that just got a sketch, so I thought I would try my luck. I am happy I did! I also picked up one of her books,
Hansel & Gretel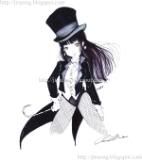 The only commission that I arranged prior to the con, was one by
Camilla d'Errico
. I was hoping to get a sketch from her last year, even if it was a quick one, but at the time, she was the only person watching her booth, and had to deal with any potential customers. So, I got books signed then, and when the time came this year, I set up the commission.
Realizing that I wasn't doing much, I decided to check the schedule, only to see that the Shane Davis/Mark Brooks/Clay Mann sketch duel was about to start. I went up, got my ticket, and sat down in the back. This was the first of four sketch duels I took in this weekend.
The character chosen, was Batman. Shane Davis' piece, was my favourite out of the three, followed by Mark Brooks, and the Clay Mann. I was 10 numbers away, from winning the Clay Mann piece. Oh well.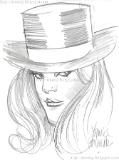 I went back down to the con floor, and eventually made my way over to the DC booth, where Yanick Paquette and Jeff Lemire were signing. Got sketches done by both.
And to cap off the first night at Fan Expo Canada, I received this piece of original art, as a gift from Peter (of
All New Comics
), for helping set up his booth on Wednesday.
I am quite grateful to receive such a nice gift like this. Thanks again, Peter!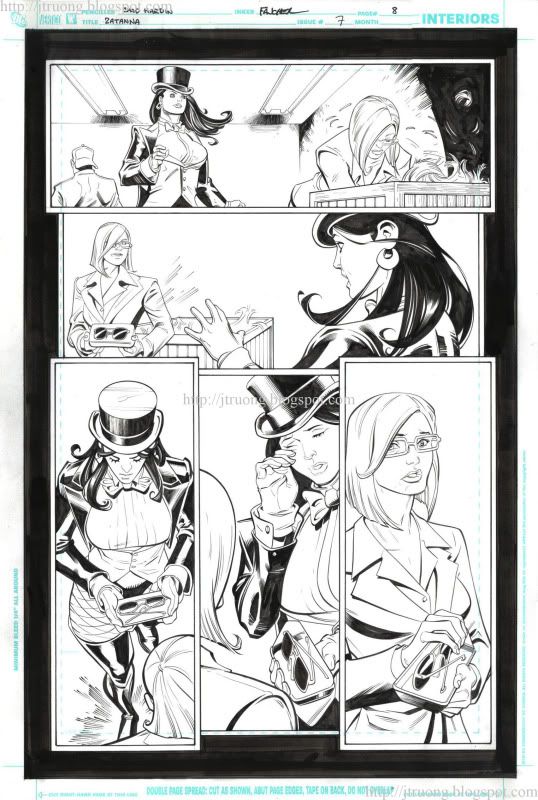 Zatanna #7 Page 8, by Chad Hardin (Pencils) and Wayne Faucher (Inks)
I took off at the end of the con day, I "subwayed" it up to Dupont station, around where Danny was drinking after his cancelled softball game, so I could drive him home (and myself). Painful walk from the MTCC to Union Station. Got home, got ready for the next day.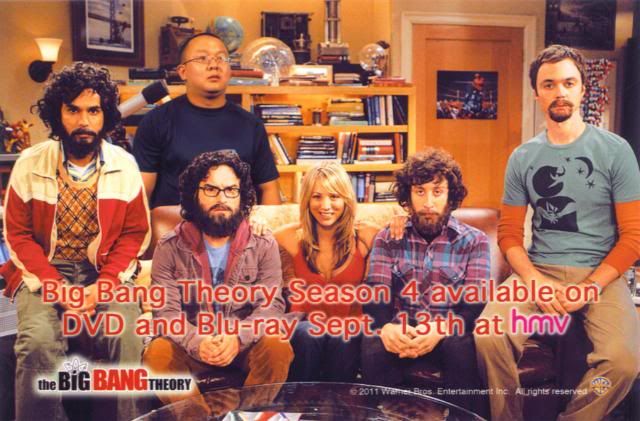 Hey look! I'm with the cast of the Big Bang Theory! (I didn't like the way the photographer directed me to pose)
---
Fan Expo Canada: Day 2 - Friday August 26th, 2011
Friday, we left for the con before 8am, and got in line before 9am. Entry into the building, from this point on, had no issues (aside from walking the queue line). This lead to
this comment
I made to Danny, while walking the line. I apologize, if I offended anyone, but it was a joke.
First thing I did Friday morning, see Jeff Smith. He was signing at the Cartoon Books booth from 11am-1pm, so I got in line around 10:30am. It did allow for 30 minutes of walking around, but there wasn't much going on then, so I just got in line.
After Jeff Smith, I actually had no real plans for a good chunk of the day, other than to get books signed, and to see the "Women of Comics: Fan Expo Edition" Sketch Duel.
Because of the lack of plans, it opened me up to some studio booth signings (shown below) and other randomness (shown at the end of the day).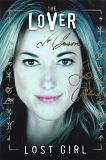 Zoie Palmer (Lost Girl) & Me (L); Signed photo card (R)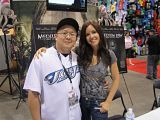 Medium Raw: Night of the Wolf Poster signed by Andrew Cymek & Brigette Kingsley (L); Brigette Kingsley & Andrew Cymek (M); Me & Brigette Kingsley (R)
I don't think I actually did much on Friday, other than hit up a couple of the publisher booth signings. I can't really remember much of Friday, after looking at the schedule for that day, and the sketches I got...
The booth signings were staggered, Ryan Stegman at Marvel in the early afternoon. Shane Davis at DC, later in the afternoon.
Then I went up to the sketch duel, which featured
Jill Thompson
,
Agnes Garbowska
,
Katie Cook
, and
Sara Richard
.
This was the best sketch duel I had ever been too. The stories that were told, were just absolutely hilarious. Katie Cook definitely was a riot (if you ever see her, ask her about "McClaw"). The ladies were cranking out sketches. At the end of it, fourteen sketches were raffled off. I came close to winning two pieces, but was 2 numbers off on both. One of which was Sara Richard's sketch of Michelle Pfeiffer's Catwoman costume, which was the last to be raffled off. So close.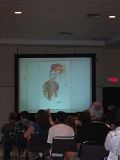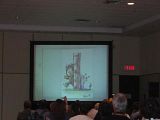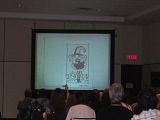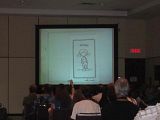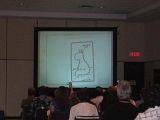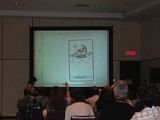 After the sketch duel, I went back to the convention floor, to get more books signed, and that was pretty much it for that day. I did pick up a piece of original art, done by
Francis Manapul
I did look around some dealer booths for potential deals and things to buy. I also went around and took some pictures (not many, but I snapped some).
I leave this day, with some randomness photos.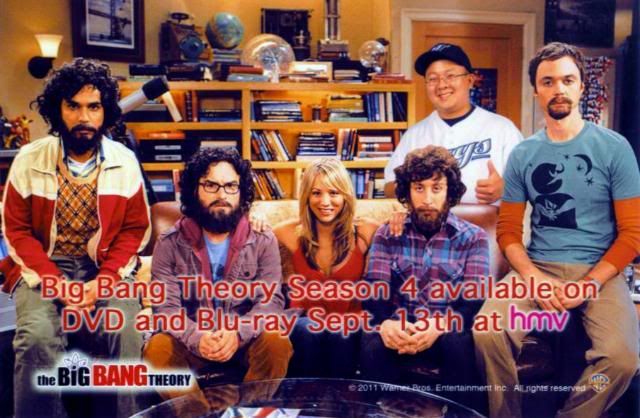 Hey look! I'm with the cast of the Big Bang Theory, Part 2! (Better pose)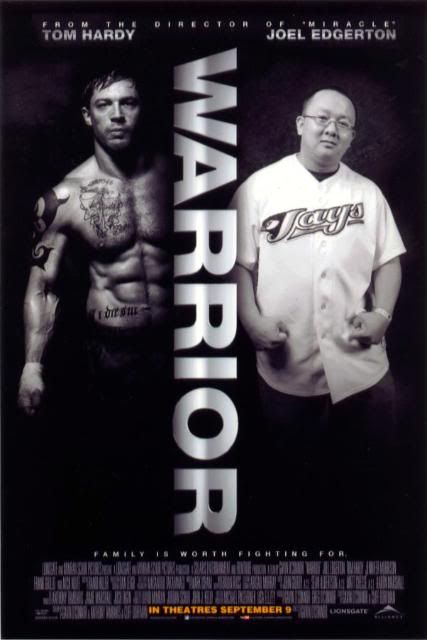 I'm starring with Tom Hardy, in Warrior. Joel Edgerton is my "stage" name (didn't like the pose that the photographer had me in... I was standing straight up, originally)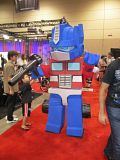 Kre-O Optimus Prime & Me
Blurry pic of Me & Hornet (from Heroes of the North... aka, Marie-Claude Bourbonnais)
---
Fan Expo Canada: Day 3 - Saturday August 27th, 2011
Saturday started, much like Friday. Left the house at the same time, and got to the con. Different plans though. Today, was more for celebs.
Personally, I wasn't really interested in paying for celebrity signatures this year, unlike last year, where Summer Glau was in town. This year, though, my little sister wanted one. She was almost set to come with us, until she realized that after she gets her autograph (and not even a photo with...), she would have to be at the con for the duration that we would be there (10 hour day at the con, unless someone came down to pick her up). So, she said she just wanted the autograph.
The celeb, Tom Felton.
Tom Felton
What the heck, eh?
Me & Tom Felton, signing a photo for my sister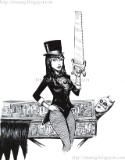 Once through that line, I popped over to the
Big Sexy Comics
booth, to see my buddy,
Shane Heron
. I had asked Shane to contribute a Zatanna piece, for my collection, which I picked up at Fan Expo Canada. Awesomesauce, I must say! Be sure to check out his collaboration with "Fearless" Fred Kennedy on
Mike Gorbsmith: The Only Attractive Russian Ever
.
For those unaware, Shane is teaching a Cartooning course at Centennial College. For more info and to register,
Click Here
Saturday's plan was getting some books signed by guests that were only scheduled to come for Saturday and Sunday, starting with David Finch. While I was in line for David Finch, Danny was in line for our main goal for the day, meet the cast of
Lost Girl
.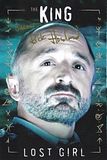 Rick Howland, Ksenia Solo, Kris Holden-Ried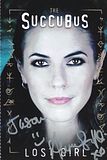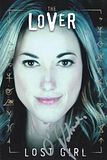 Anna Silk, KC Collins, Zoie Palmer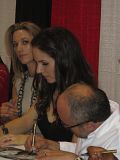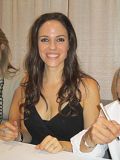 Zoie Palmer & Anna Silk (L), Anna Silk (M), Ksenia Solo, Zoie Palmer & Anna Silk (R)
Apparently, the male cast members were there too... I didn't notice. :p
I kid, I kid. They were there, and are very nice people. I just concerned myself with taking photos of the female cast members.
Immediately following the cast of Lost Girl signing, we both jumped into Joe Kubert's line.
Me & Joe Kubert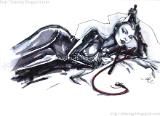 After the Joe Kubert signing, I managed to catch two signings at the DC booth. One with Marco Rudy, who is now (for the foreseeable future), a Toronto resident. The other, was with Jill Thompson.
I had to get a Lil' Sandman, to go with the
Lil' Death
.
After those two signings, I found myself with a little bit of time, before heading up to the Dale Eaglesham/Dale Keown/Jim Cheung sketch duel. Aside from picking up a sketch from
Alina Urusov
, I didn't do much else during that time, other than I getting to sit and relax, before heading into the sketch duel.
L-R: Jim Cheung, Dale Keown, Dale Eaglesham, Bryan Deemer (of Comic Geek Speak)
Enjoyable sketch duel, though I couldn't hear anything that Jim Cheung said. There were some great pieces at the end, but I did not come close to winning any of them.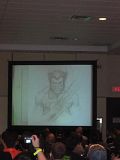 Finished pieces (L-R): Dale Eaglesham, Dale Keown, Jim Cheung
Immediately after the sketch duel, I went down to the Marvel booth, for the final signing of the night. I had books to get signed by Jason Aaron, and was hoping for a Mark Brooks sketch, which I was happy to get.
Following the signing, the Marvel booth was being set up for their giveaways. Although, a lot of items were given away, I didn't walk away with much, other than some signed cards, and a Captain America movie poster. In hindsight, I should have offered the girl next to me and Danny, $20, for the free Stuart Immonen sketch she got... I am kicking myself over not attempting. Oh well.
Called it a night. We were thinking about heading over to a bar, and watch UFC Rio, but we got tired, and just headed home, and got ready for Sunday.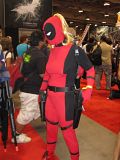 Cosplaying after the Marvel Costume Contest. Not sure who won, but hopefully, the rollerskating Dazzler did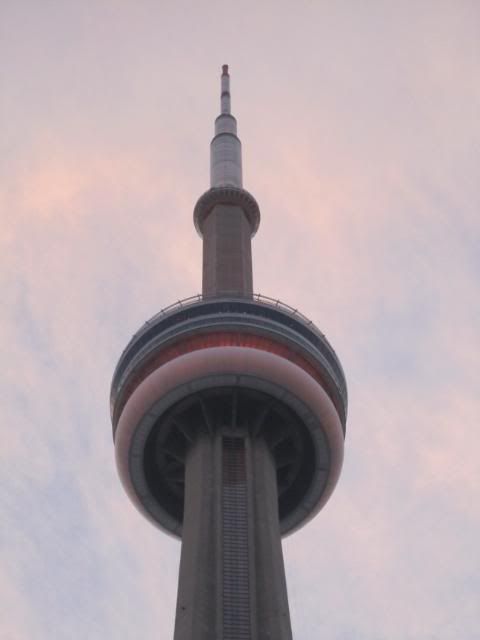 RIP Jack Layton (unfortunately, we didn't stay until dark, to get a better shot of the CN Tower being lit orange)
---
Fan Expo Canada: Day 4 - Sunday August 28th, 2011
Sunday, I travelled down to the MTCC, solo. Danny had a birthday party to go to, and was going to meet up later in the afternoon.
Got down, and in, to line up on the 800 level. This is where I believe one security guard, messed up... unless she was told to...
My tweet that morning
When I got in line, I was in the second row, but right near the end, where the line would curve, into the second line. You know, like a snake... This one security guard, comes up, and says "where going to snake the line, so all you at the back, follow me." When people were questioning what she thought line-snaking was, her reply, "trust me." It's times like these, that I have little faith in humanity.
She organized several individual lines... which ultimately just all went in at the same time.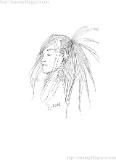 Whatever... I didn't have much planned for the day, other than going to the first Marvel signing (with Adrian Alphona, Dale Eaglesham, and Ryan Stegman), and the Adam Kubert signing in the afternoon. That was, until it was confirmed, that the sketch duel, that was originally David Finch vs. Ethan Van Sciver, was changed to David Finch vs. Francis Manapul!
I did also get a sketch from Ryan Stegman, during that signing, but I got that for Danny.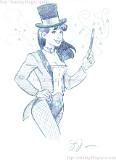 Before heading up to the sketch duel, I went to see Jill Thompson, about the possibilities of getting one of her pencil sketches. At first, she said she was booked for the day, but double checked her schedule and sketch list. Turns out, she had time to do one right away, before tackling the others. Admittedly, I wasn't planning on getting one of her pencil sketches, when I was doing what little planning I did, for this con. I decided on it, Saturday, when driving home. So, I was quite glad to be able to get one done by her.
Once on her list, I hauled ass over to the sketch duel. It was 11:26am, at the time, I got to the escalators at 11:28am, and into the sketch duel room, in time for the 11:30am start time. Took my usual spot in the back of the room.
The character chosen for this duel, The Joker. Sadly, I didn't take any photos of David Finch and Francis Manapul sketching. I was also slow with the camera, when David Finch's piece was on the overhead. I only took photos of the Francis Manapul pieces... yes, he did two! One was the Joker, one of Batman. Both pieces connect to each other, but both were also raffled off separately.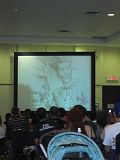 Joker and Batman by Francis Manapul
The first raffle ticket drawn, 608234... THAT'S MINE!
It was established at the beginning of the sketch duel, that it would be the choice of the winning raffle ticket, to decide which piece would go first. So, in my daydreaming state, I was sitting in the back, wondering what would happen if my ticket was drawn. Which would I pick? It was tough, because both artists' works, I love. I have for several years. Though, I am a bigger fan of Francis, because I see him more at the cons and events in the city, and is one of the nicest people in the business. Not to say that David Finch isn't one of the nicest people in the business, because it's always nice to see him. And I don't have many pieces by David Finch, especially that are as detailed.
Then dream became reality, when my number was picked. Having to actually make the decision, I apologized to Francis Manapul, for picking David Finch's Joker.
I did put that Joker piece in a frame, and it is now on my wall.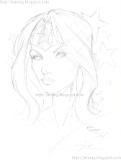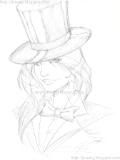 After the sketch duel, I went down to the con floor, and over to see Mike Debalfo. I had gotten on his sketch list, early on Friday, for two pieces. From when I saw him arrive, until when I got on his sketch list, I thought I was second or third. I figured I would have been able to pick it up on Friday, near the end of the day. Unfortunately, he wasn't able to get to it. Same thing for Saturday. He eventually got one of them done, but not the second.
He was working on several other peoples' sketches, but not both of mine. It was a little annoying, I'm not gonna lie. I just wanted to get the sketches, so I didn't have to worry about forgetting who I'm picking up sketches from. On the plus side, he did discount the sketches.
Mike Debalfo is a very talented artist, and a very nice guy. I can be a patient guy, but when I'm just constantly being told, "I'm still getting to it," only to work on someone else's sketch every single time, gets annoying.
I did get into the Adam Kubert line a little early. Roughly around 2:45pm, for the 3:30pm signing time. Once I got through the signing, I went over to the Marvel booth, to catch their last signing on the day... and con. Seeing Jim Cheung sketching, I figured I'd jump at the catch at another sketch, which was my last sketch of the con.
Jim Cheung did looked fairly drained from the con, his flight was cancelled, and rescheduled for Monday.
I spent the rest of Sunday, bin diving. Managed to grab some books and a toy for cheap. Walked around some more, only to see the Trish Stratus signing at the Anchor Bay booth, was still going on (probably capped off, but I never checked).
Trish Stratus promoting her new movie, Bounty Hunters (I'm not gonna lie, I like the Bail Enforcers title more)
Before taking off, I popped by the Marvel booth again, because I noticed CB Cebulski, putting out more freebies. He was getting rid of a lot of the signed Marvel cards, which are signed by Marvel writers (Brian Michael Bendis, Jonathan Hickman, Jason Aaron, Dan Slott, CB Cebulski, Jeph Loeb, Peter David, Matt Fraction, Jim McCann, and Joe Quesada). He was also putting out a bunch of the SDCC Winning Signing Ticket for Chris Evans, Chris Helmsworth, Stan Lee, Joss Whedon, Clark Gregg, and Castle (TV show, turned comic). I grabbed some of those, because those are just cool to have.
The con ended, and the group of us (me, Danny, Edward, Marv, Brendan), all went up to Smoke's Poutinerie, for dinner, before heading our separate ways.
Thus, capping off Fan Expo Canada 2011.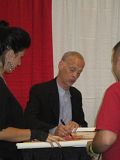 Robert Englund (L), John Waters (R)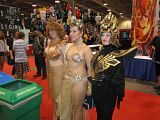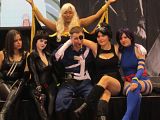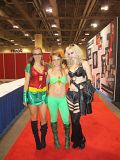 Cosplayers
Free Stuff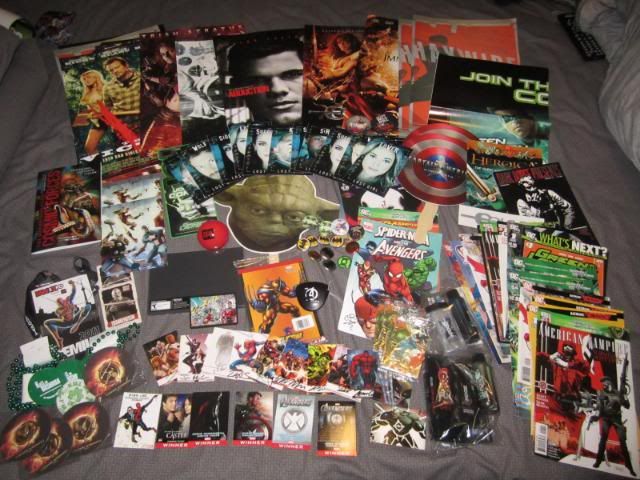 Most of my free stuff
---
I am still physically exhausted from the con. However, it was a great con. Yeah, I had my little issues, that I went into detail about here, but really, they were minor to me, in the end.
Aside from those issues, Fan Expo Canada was excellent. Ran very quick and smoothly, which made for more fun.
It sucks that there were last minute cancellations... but you know what sucks more... Hurricanes... Hope everyone and their families are safe, and that there are no damages to their houses/apartments/anything.
Aside from the cancellations, I did miss seeing few people this weekend.
1) Darwyn Cooke... It felt like three episodes of Polka Dot Door, and he was Polkaroo (heard he was there Friday-Sunday, and I just kept missing him).
"I missed him again."
2) Guillermo del Toro... Surprise appearance. But had I know, this may have been a great opportunity to get him to sign his contribution to the Ultimate Spider-Man 100 Project.
3) Jason Mewes... Just never occurred to me that he would also be part of the "Todd and the Pure Book of Evil" cast signing.
Thanks to everyone that made this event possible. Tiz, Kevin, Aman, et all at Fan Expo Canada.