No blog posts since September 1st, 2011?!?!? I know I've been cutting back on the blog posts, but damn, that was a long time. Since then, Blogger seemed to changed the format that I was normally accustomed to, when it comes to writing the blog posts. I'm not used to this... I'm switching back, until Blogger decides to just force the change over (like Facebook does).

So what the hell have I been up to since then? Well, those that follow me on Facebook, or even Twitter (not as updated as Facebook), you would know. The blog, as you can see, I have been neglecting. It does seem to be more troublesome to update this blog, so who knows how often I'll be posting from here on out. Hell, I've even pondered just ending it. But, part of me wants to blog every so often. So, here goes...

The day after the last day of Fan Expo Canada, Danny and I went down to the CNE. This was my second trip down to the CNE, this year... I actually haven't been down to the CNE, since sometime in the late 90s.

The main reasoning for heading down to the CNE that day (August 29th, 2011), was to meet UFC fighters, Rich "Ace" Franklin, and Mark "The Machine" Hominick (for the 3rd time, since UFC 129).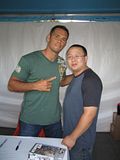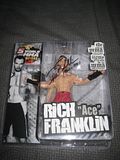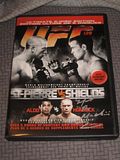 Rich Franklin & Me, Rich Franklin WOMMA series 2 figure signed, Me & Mark Hominick, UFC 129 DVD signed
We also ate unhealthy food...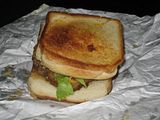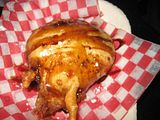 Krispy Kreme Burger, Behemoth, Deep Fried Joe Louis, Deep Fried Twinkie
For those that don't know, the Krispy Kreme burger is a cheeseburger, with two whole Krispy Kreme Original Glazed doughnuts, that replaces the standard hamburger bun. It's delicious! Recently, I bought some of those doughnuts, and made these burgers at work, with some of my co-workers.
The Behemoth, is the same concept, but with two full Texas toast grilled cheese sandwiches, that replaces the hamburger buns. It wasn't as good.
The deep fried Joe Louis, and Twinkie, weren't anything special.
About a week after (on September 7th, 2011), I got a call from
Ryan A
, about the Doug Gilmour signing at Real Sports Apparel. His friend, Dexter, had wristbands for the signing, which would guarantee an autograph. Long story short, the wristband was offered to me, and I hauled ass downtown, for this signing.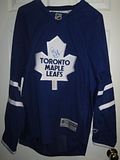 Me & Doug Gilmour, Leafs Jersey signed by Doug Gilmour, close-up of the Jersey
TIFF
rolled around again, from September 8th-18th, 2011. I was down there from September 9th-13th. I did manage to get photos with a couple of celebrities.
Tom Hiddleston & Me, Me & Justin Long
I also got some sweet autographs. Most of them, I haven't posted, mainly because I don't have them back yet. But the ones I have shown (on Facebook), will still remain off this blog. I just don't want anyone taking those photos, and using them on eBay or wherever, to sell... and I'm too lazy to watermark or shrink them, so the printing would be terrible.
The ones I did post on Facebook, are photos signed by: Tilda Swinton, Jon Hamm, Rachel Weisz, Max Minghella & Kate Mara, Kirsten Dunst & Bryce Dallas Howard, Anna Kendrick, Jenna Dewan-Tatum.
The ones I haven't gotten back (but should be getting back within the next couple of weeks, are signed by Megan Fox (x2), Willem Dafoe, Geoffrey Rush, Ewan McGregor, Tom Hiddleston, Antonio Banderas, Seth Rogen, Anna Kendrick, and Jennifer Garner.
TIFF was definitely a tiring event, but fairly successful, in my opinion.
On September 18th, 2011, Toronto Blue Jays sluggers, Brett Lawrie & J.P. Arencibia, were signing at
Frozen Pond
.
I had already gotten J.P. Arencibia's autograph, so I only went for Brett Lawrie.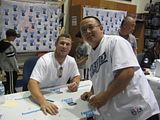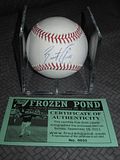 Brett Lawrie & Me, Brett Lawrie signed baseball
The following Saturday was a fairly packed with signings. In Markham, UFC fighter, Wanderlei Silva, and UFC Ring Girl, Brittney Palmer, were signing at the Popeye's Supplements store. Then, in Aurora, there was a signing, featuring former UFC fighter, Nate Marquardt. After that, at Real Sports Bar & Grill, was the Coke Zero Ambush Party, that I won an invite to (through Twitter), and brought Danny along as my guest.
The Coke Zero Ambush Party, was set up for those invited, to watch the pre-season Leafs game at Real Sports Bar & Grill, with a whole bunch of Leafs Alumni. It was a meet & great/signing/dinner.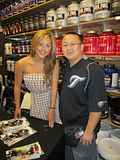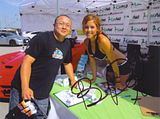 Brittney Palmer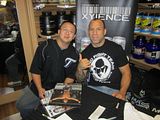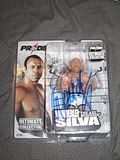 Wanderlei Silva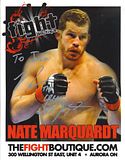 Nate Marquardt (Danny got me the autograph, because I didn't want to spend $10 to meet Marquardt)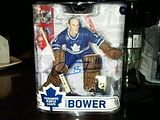 Danny & I at the Coke Zero Ambush Party, Me & Johnny Bower, Johnny Bower signed figure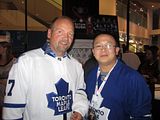 Wendel Clark & Me, Wendel Clark signed figure, Mike Johnson & Me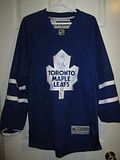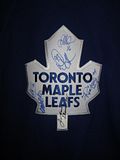 Leafs Jersey signed by Doug Gilmour, Darcy Tucker, Mike Johnson, Red Kelly, Wendel Clark, and Johnny Bower
At the end of the month, I popped down to the Toronto Cartoonists Workshop, for the Flash #1 DC New Universe launch party. It was a pretty packed turnout for the event. I didn't take any photos, but
Danny did
.
On October 12th, 2011, the UFC held a press conference at the Air Canada Centre, for UFC 140 (December 10th, 2011, at the ACC), with tickets going on sale that weekend.
The main event for that card, Jon "Bones" Jones vs. Lyoto "The Dragon" Machida, for the UFC Light Heavyweight Title. Both of those fighters, along with UFC President, Dana White, and CDN fighters, Mark Hominick, Rory MacDonald, and Mark Bocek, were in attendance for the presser.
There was a signing that was taking place at Real Sports Apparel, a few hours after the press conference. I figured I should be there early, to line up for the signing. My cousin was 1st in line, I was 2nd... I showed up a little over an hour after him.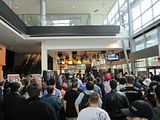 UFC Press Conference, Mark Bocek & Me, Dana White & Me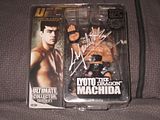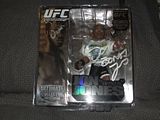 UFC 129 Program signed by Rory MacDonald, Mark Bocek, Dana White, Mark Hominick, Sean Pierson, and Brittney Palmer; Lyoto "The Dragon" Machida UFC Series 1 figure signed; Jon "Bones" Jones UFC Series 7 Limited Edition figure signed
Oh yeah, Danny and I got tickets to UFC 140.
The following Friday, I checked out the
Everything To Do With Sex Show
. It was a fun experience last year, since I've never been. This year, wasn't as good. I went down to see Lexi Belle.
For those that remembered
my post last year
, I did pick up the
Batman XXX: A Porn Parody
, for Alexis Texas to sign. Well, Lexi Belle played Batgirl in that movie, so I wanted to get that DVD signed. I never scanned it, so I'll just end that note with my photo with her.
Lexi Belle & Me
The last of the recent events, took place on October 29th, 2011. Danny and I drove up to Newmarket, for a signing with UFC Fighter (and The Ultimate Fighter 12 winner), Jonathan Brookins.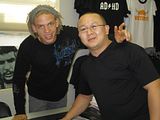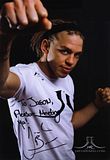 Jonathan Brookins & Me, Jonathan Brookins signed photo
So that's what I've been up to, since the
Fan Expo Canada 2011 Report
post. I do have a bunch of upcoming events, in November and December. Unfortunately, I won't be attending the Toronto ComiCON on November 20th.
Everything coming up, looks to be an expensive time of year (and that's not including Christmas). I can't really afford to take a day off of work, for the con, so I will be skipping this one. I'll try to make the one in February.